It may seem strange, but I really am not a fan of computers.  I watch my husband "surf the web," peruse his Google Reader, and build empires in his Star Wars game, and sometimes I feel a little jealous because he can keep himself entertained for hours at a time with no human contact at all.  On the other hand, I can barely sit at a computer for more than 20 minutes without feeling twitchy and ready for something new.

The few things I enjoy doing on my computer are writing, catching up on tweets, and reading a number of blogs.  A few weeks ago, one of the blogs I follow posted a cupcake challenge.  Of course, it seemed impossible not to participate since I love food and especially cupcakes!

The challenge is simple, choose a cake recipe, a filling, and a frosting to make your own creation!  I used my vanilla cupcake recipe with a few adaptations, a vanilla pudding filling, and a dark chocolate ganache to top off this delicious dessert!


Join in the fun and create your own sweet treat!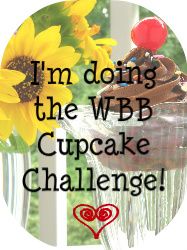 Boston Cream Pie Cupcakes
Cake- yields 1 1/2 dozen cupcakes
Ingredients
2 cups plus 1 tablespoons cake flour (not self-rising)
1 teaspoons baking powder
3/4 teaspoons baking soda
1/2 teaspoon salt
1 sticks (1/2 cup) unsalted butter, softened
1 cups sugar
1 teaspoons pure vanilla extract
2 large eggs, at room temperature
1 cups sour cream
2 tablespoons lemon milk
Filling
Ingredients
1 box instant pudding mix
2 cup cold milk
Frosting- Dark Chocolate Ganache
Ingredients
1/2 cup dark chocolate chips
1/2 cup bittersweet chocolate chips
2 teaspoons honey
2/3 cup heavy cream
Directions: Preheat to 350°F.  Fill cupcake tins with liners. Wisk together flour, baking powder, baking soda, and salt in a medium bowl. In a large mixing bowl, beat butter and sugar with electric mixer at medium speed until light and fluffy. Beat in vanilla and milk . Add eggs 1 at a time, beating well and scraping down the bowl after each egg.  Turn your mixer to low, alternate dry ingredients and sour cream, beginning and ending with dry ingredients just until incorporated.  Cook for 20 minutes, rotating cupcakes halfway through baking.  Cupcakes are done when toothpick is inserted into the center of a cupcake and it comes out clean.  Cool on a rack.  Allow to cool for 10 minutes before removing from tin.  Allow to cool completely before filling and frosting cake.
Make your pudding: Follow instructions on the side of the pudding box.  Allow the pudding to chill.  Once prepared, pour pudding into large freezer ziplock bag.  Using an apple corer to remove the center of the cupcake.  Be sure not to push the corer through the bottom of the cupcake.  After removing all of the insides, cut a hole in the tip of the ziplock bag and fill the cupcakes with the pudding.
Make your ganache: Pour chocolate chips and honey in a stainless steel bowl.  In a small saucepan, bring the heavy cream to a simmer-do not let it boil.  Pour the heavy cream on to the chocolate chips and honey.  Let it stand for five minutes and then whisk until combined.
Dip the tops of the cupcakes into the ganache and let all the excess drip back into the bowl.  For a little extra treat, sprinkle the tops of the cupcakes with coconut.  Make sure to keep these cupcakes refrigerator!